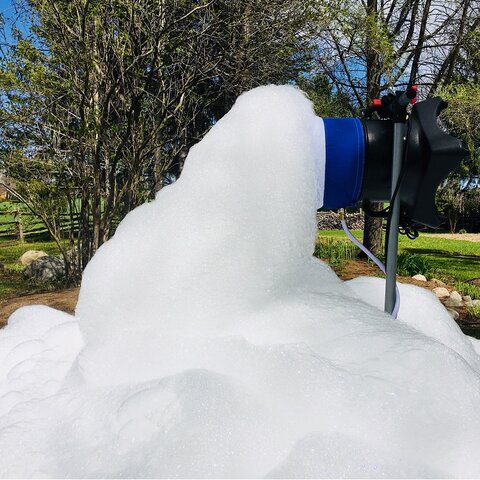 Foam Machine (New For '22)
FAQs
How Long Does It Last?
Each packet lasts Between 45-60 minutes. Base rental is for up to 4 hours and TWO packets of foam. Additional hours ($25 per hour) and foam packets ($40 each additional packet) can be purchased.
How Much Area Can The Foam Fill?
The foam machine will fill up a 30'x30' area up to 4' high in less than 10 minutes
Is It Safe?
Yes, the foam is all natural, hypoallergenic, food-grade solution.
Can I Operate The Foam Machine Myself?
Yes, our team will set everything up for you. All you will do is turn the machine on and off as desired. If you are renting the machine for multiple hours, we will show you how to mix the additional powder. ( Takes 10 minutes to mix more powder in a 5 gallon bucket or 50 gallon drum) Bucket or drum provided by us. Water will be needed at your site.
Will The Bubbles Sting My Our Eyes?
Never. It is actually softer on the eyes than pure water.
Will It Stain Clothes Or Kill The Grass?
Not a chance. The foam is enviromentally friendly and will not harm you clothes or your beautiful lawn.
Will You Get Wet?
What Surfaces Can This Be Setup On?
Grass is the safest surface for your foam party. We can setup on smooth pavement or concrete as well. Under no circumstance will we setup on dirt or rigid surfaces.